About
The project aims to collect sociodemographic and SDOH data from 6 urban cities (8 areas in total) across 4 provinces using an implementation science framework. The multistage project includes collection of data, development of local 'action networks,' partnership development with municipal partners and local public health, and advocacy for upstream policy change.
A key aspect of improving population health in urban primary healthcare organizations is addressing the social determinants of health (SDoH). Actions to address SDoH go "upstream" of illness and premature death and are key to primary prevention and reducing health inequities. Addressing SDoH has long been a central part of population health. More recently, healthcare organizations have explored how they can address SDoH, but such actions remain concentrated in a small number of organizations. In 2017, we published a key framework on how primary healthcare organizations can address SDoH. This stepwise, data-driven approach integrates actions on SDoH at multiple levels.
The proposed multi-year project will engage six urban jurisdictions: Toronto, Barrie, Kingston, Calgary, Winnipeg and Montreal. We will apply implementation science methods to adapt, implement, and evaluate multi-component approaches to improving population health through addressing SDoH through urban primary healthcare organizations, engaging community and social services, local public health and municipal collaborators.
Our vision: Networks of primary healthcare clinics in urban settings working together to implement data-driven, evidence-based actions on SDoH at the individual, organizational, and community levels to improve population health.
Impact
Our goal is to:
Develop 8 local SDoH action networks in six cities working together to implement data-driven, evidence-based actions at the individual-, organizational- and community-level
Advance implementation science methods in the adaptation and evaluation of our framework for specific contexts and challenges
Disseminate our approach to support ongoing scale-up to transform primary healthcare to integrate health and social care to improve population health.
Presentation
How do we best implement local "Upstream Action Networks"? A qualitative study of provider and community perspectives on improving population health through addressing social determinants in urban primary healthcare. Poster presented at: First Annual Healthy Cities Conference; November 17-18, 2022; Ottawa, ON.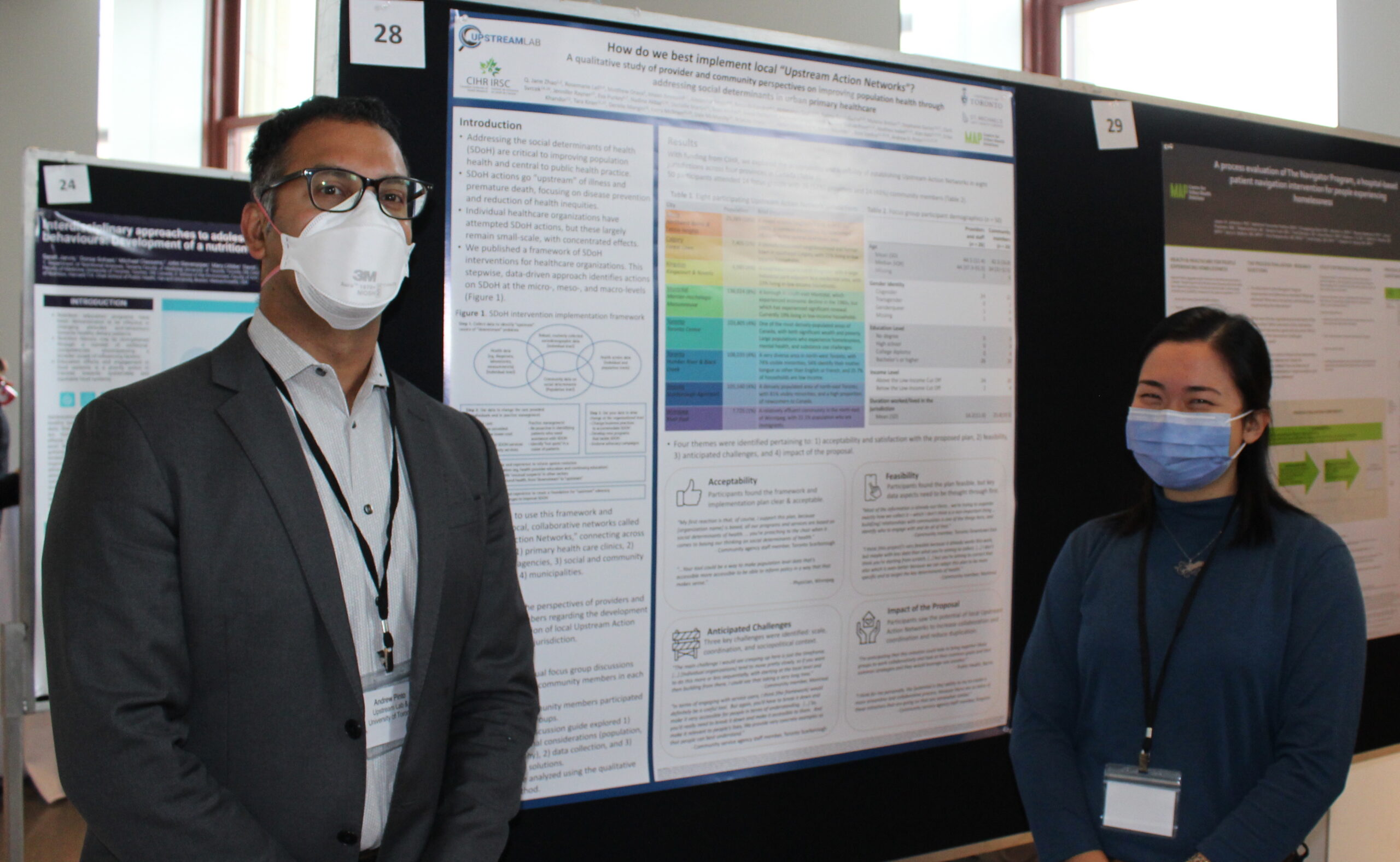 Dr. Andrew Pinto and Jane Zhao at the Annual Healthy Cities Conference in Ottawa, ON