Resources
Explore a variety of community resources that we have developed at the Upstream Lab
The Future is Now: Artificial Intelligence (AI) in Family Medicine
In collaboration with The College of Family Physicians of Canada, the Upstream Lab hosted a six-part monthly webinar series from December 2020 – June 2021 featuring family medicine leaders in Canada who shared their expertise in machine learning, natural language processing (teaching computers to understand human language), ethics, and AI research.
One Mainpro+® credit per session was offered to physicians who attended the live webinar.
Watch the videos below:
In May 2021, the Upstream Lab hosted a webinar featuring Canadian leaders of new models that integrate health and social care.
Check out the recorded video to learn about what makes these interventions successful, the existing challenges, and ways to find the right model for different contexts.
Panelists:
Dr. Simone Dahrouge – ARC Patient Navigator

Dr. Lisa Dolovich – Health TAPESTRY

Dr. Jennifer Rayner – Social Prescribing

Dr. Gina Agarwal – Paramedic led interventions Laura Boodram – Income Security HP Nancy Snow

Cheryl Jeffers-Johnson – Community Health Team Navigator Program

Jay Bodner – Manitoba MyHealth 
This event was supported by the Canadian Institutes of Health Research (CIHR).
The Upstream Lab compiled lists of social resources covering food supports, housing, legal advice, social isolation and support around domestic violence in the following Canadian provinces and territories  (updated May 25, 2020).
Click on the province/territory name below to access the list of COVID social resources:
Artificial Intelligence & Health Care
Health AI Resources
Our lab has created a platform for learning about health data science and artificial intelligence (AI). The platform offers the following information:
Basic overview of Health Data Sciences and AI
Resources to develop skills around AI
Repository of publicly available health data
Relevant working networks focusing on AI
Key readings around Health and AI
Visit our platform here.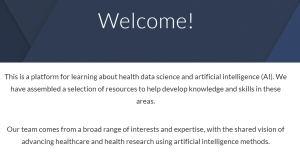 The DEEP Network

AI is rapidly emerging as a technology that will impact numerous sectors. Within primary care, the future of AI is where the power, and opportunities may be realized in the broadest and most ambitious scale. It has the potential to improve care, lower costs, and reduce physician burnout. However, in order for this field to advance in a meaningful way, we need to have interdisciplinary teams inclusive of patients, providers, researchers, and system leaders to join in a collaborative effort to create positive impact toward health-related AI initiatives.
The big Data to Enhance and Evolve Primary care (DEEP Network) brings together patients, health providers, system leaders and academics across Canada to help set the direction of AI in primary care, and to catalyze patient-oriented research in this area.
Join us, as we host regular opportunities to share work in progress on AI integration in primary care, spark new ideas and collaborations, and work toward setting priorities for research in this rapidly evolving field.
JOIN THE DEEP NETWORK!
The EXITE Summer Series responds to the COVID-19 pandemic experience via a series of exploratory questions: What are the highlighted issues? How have they and the pandemic influenced the primary care we currently provide and seek to provide in the future? How have the issues exposed impacts on social and economic policy? How might we collaborate to positively influence our future in partnership with patients and the public?
Dr. Onil Bhattacharyya; Panelists: Dr. Carolyn Steele Gray, Dr. Payal Agarwal, Dr. Sakina Walji
Dr. Noah Crampton; Panelists:Dr. Alison Paprica, Dr. Karim Keshavjee & Ms. Christine Sham
Dr. Sheryl Spithoff; Panelists:Ms. Rosario Cartagena, Dr. Azza Eissa & Dr. Christopher Parsons
Dr. Andrew Pinto; Panelists: Dr. Quynh Pham, Dr. Amol Verma & Ms. Samira Adus