About
The SPARK study is a CIHR-funded national study that was birthed out of the lack of data on social determinants of health in primary care settings in Canada. Healthcare organizations do not currently integrate social determinants data with clinical data, and health providers are not currently trained to routinely respond to social needs. This data could be used to better tailor care to a patient's social context, improve diagnostic accuracy by incorporating social determinants as risk factors, identify inequities in the uptake of health services and in health outcomes, stimulate the development of new programs, and advance research on inequities.
Impact
The goal of the SPARK study is to create a set of standardized questions, called the SPARK tool for routinely collecting sociodemographic in primary care and provide guidelines for the implementation of the questions while properly engaging patients and communities. Using a randomized-control trial, the SPARK study also aims to uncover strong evidence for the most effective way to address social needs at the point-of-care.
This project was awarded the 2019 NAPCRG People's Choice Award for commitment to patient-centered outcomes research.
Recruitment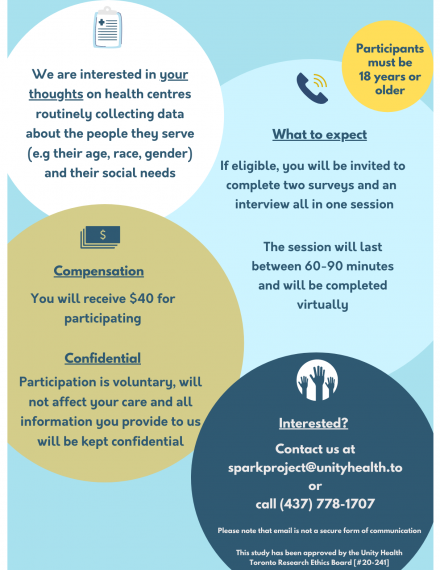 We are now recruiting participants for the first phase of the SPARK study. We are interested in learning about patients' perspectives on sociodemographic data collection in health care settings. The interviews will take about 60-90 minutes and a $40 honorarium is provided to participants.
We offer interviews in English, Punjabi, Mandarin, and French.
For more information and participation, email us at sparkproject@unityhealth.to.